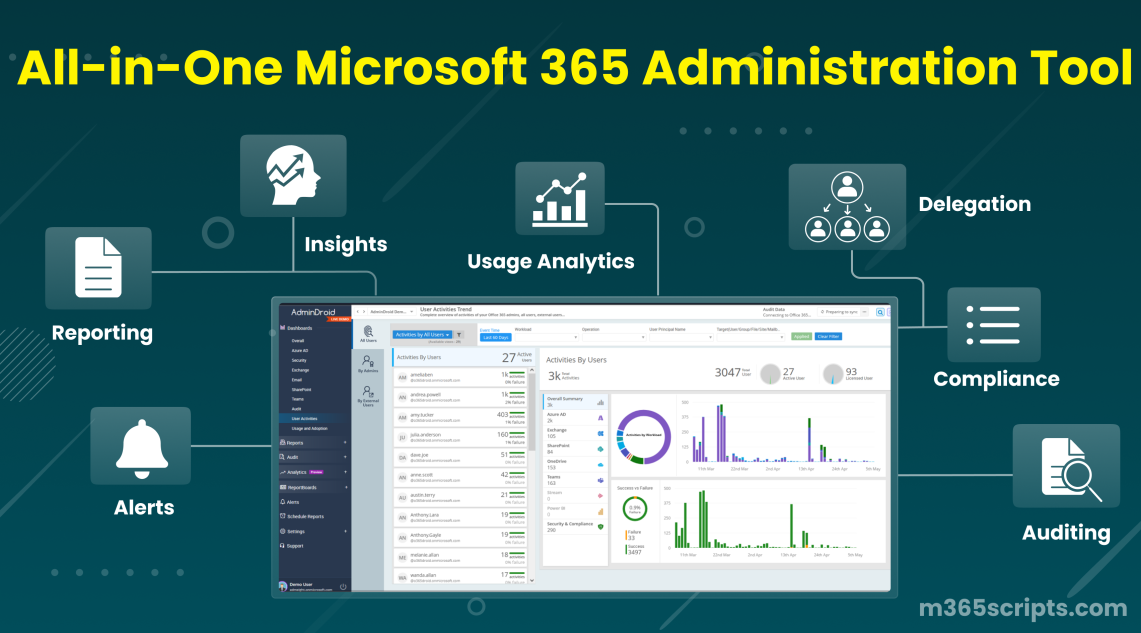 AdminDroid | Your All-in-One Microsoft 365 Administration Tool 
AdminDroid | Your All-in-One Microsoft 365 Administration Tool
Managing the Microsoft 365 environment is challenging as administrators have to deal with multiple responsibilities, from license management and user activity monitoring to enhancing security, safeguarding sensitive data, detecting suspicious activities, etc. Scalability further adds to the complexity, especially when dealing with a growing user base and diverse services.
Furthermore, the native admin portals provided by Microsoft can present a steep learning curve, particularly for administrators who are new to the platform. Navigating these portals effectively requires time and effort, making the management of Microsoft 365 a demanding endeavor.
If you're seeking a unified solution to manage your Microsoft 365 organization seamlessly, look no further than AdminDroid.
AdminDroid Microsoft 365 administration tool provides a single, unified portal to manage your entire Microsoft 365 organization. With its intuitive and user-friendly interface, it simplifies Office 365 administration, reducing the effort required to handle critical tasks.
AdminDroid Microsoft 365 reporter offers 1800+ pre-built reports to gain deeper insights into your Microsoft organization with just a few mouse clicks. Each report is accompanied by AI-powered graphs. Thus AdminDroid Office 365 reports facilitating a visual understanding of data and helping you make data-driven decisions quickly.
"Gain actionable insights into your Microsoft 365 environment with comprehensive reports."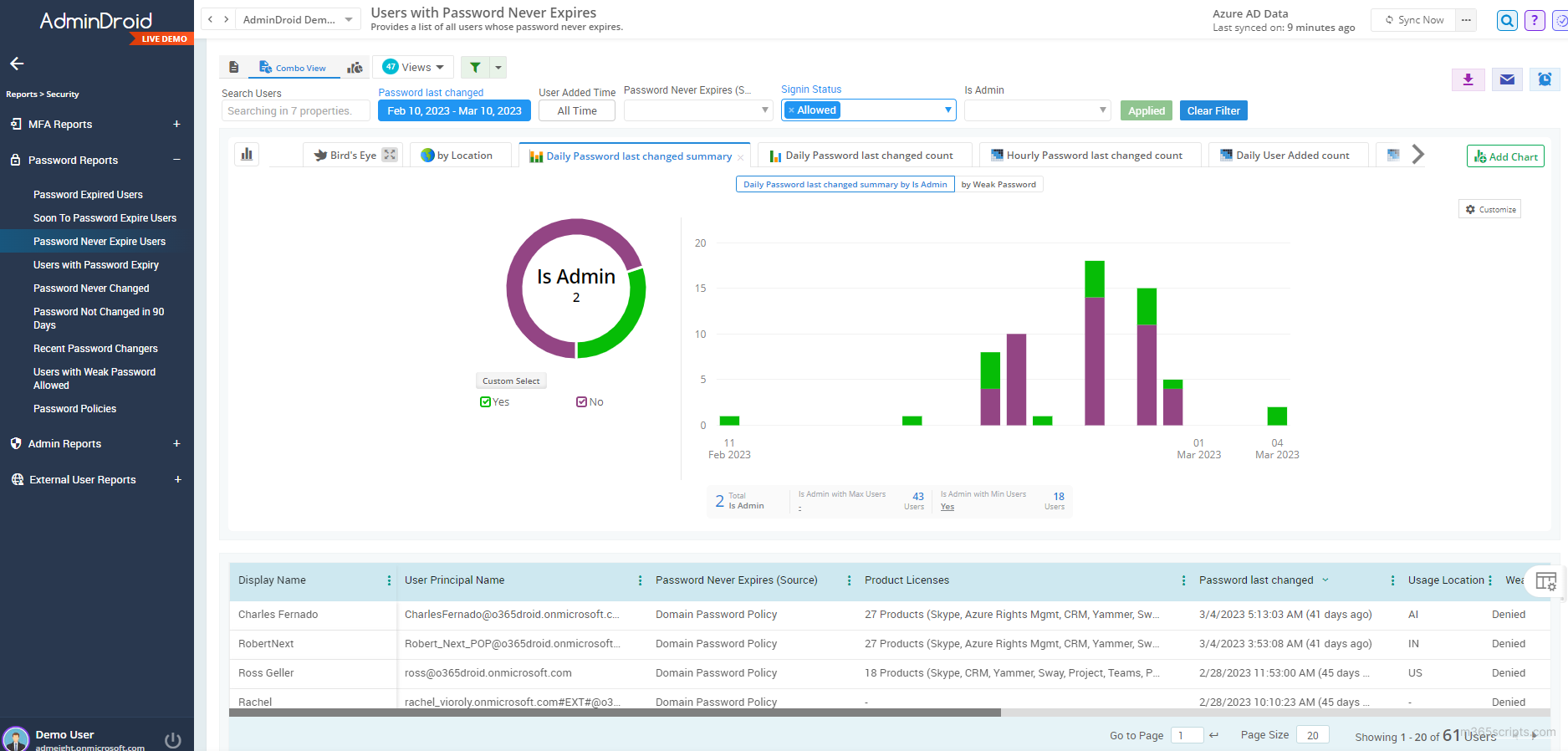 This reporting software provides out-of-the-box M365 auditing reports to monitor usage, track user activities, identify suspicious operations, and more. You can easily determine who performed specific operations & when they occurred and take necessary actions to mitigate any potential impact.
"Enhance security and compliance with detailed auditing of Microsoft 365 activities."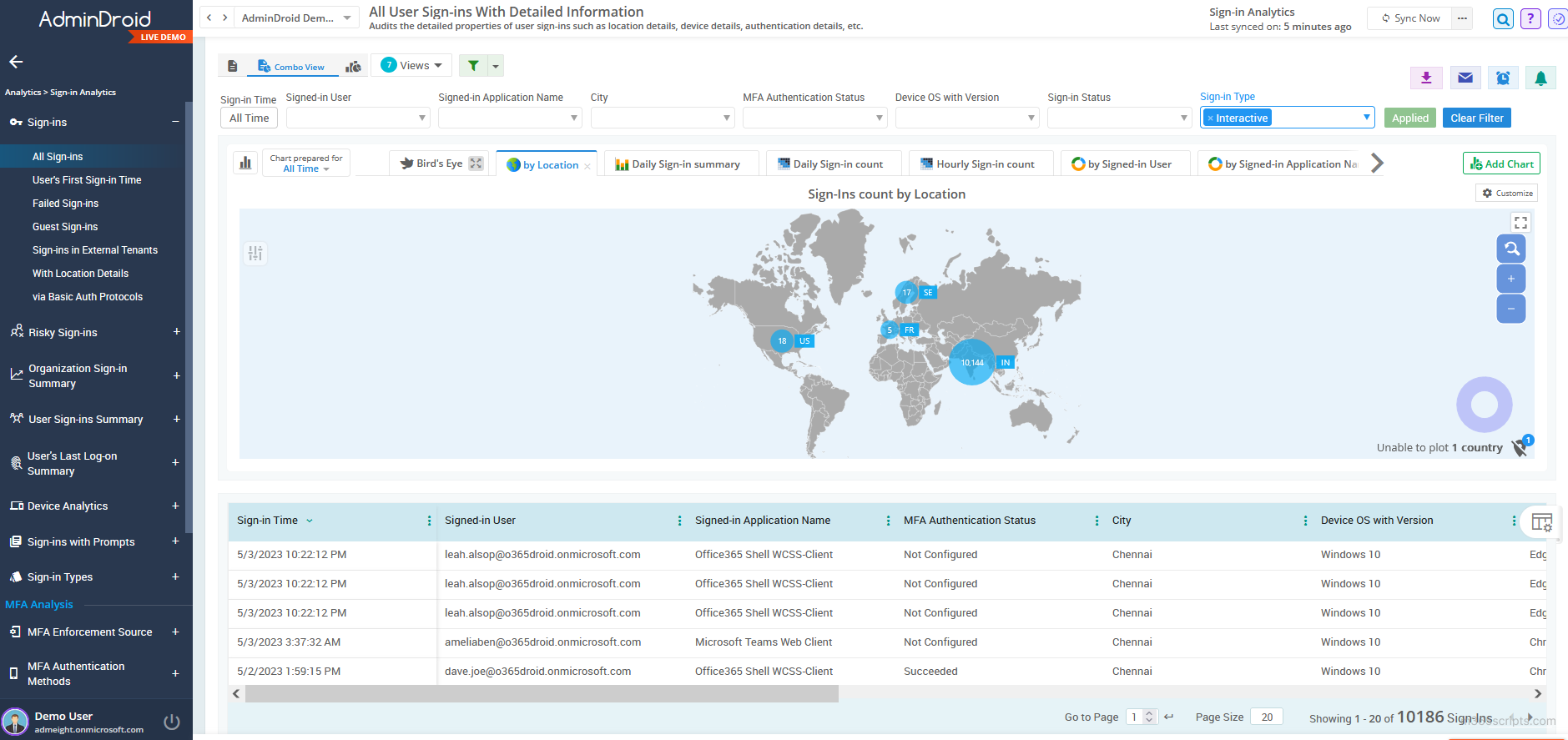 AdminDroid's analytic reports process a wealth of data and present valuable insights into the usage and adoption of various Microsoft services, including Exchange Online, SharePoint Online, Teams, and more, helping you understand how these services are utilized within your organization.
"Leverage data-driven insights to optimize your Microsoft 365 services and user productivity."
AdminDroid empowers you with advanced alerting capabilities for your Microsoft 365 environment. You can effortlessly configure alerts to receive notifications for a wide range of scenarios, including new critical events, unusual occurrences, and trend comparisons with past events. AdminDroid supports alerts for 1400+ Microsoft 365 activities and 50+ ready to deploy alert policy templates to enhance your security monitoring.
"Stay ahead of critical events with real-time alerts and get notified at the right time with AdminDroid's Microsoft 365 alerting"
AdminDroid allows administrators to delegate specific tasks and permissions to other team members without granting them full administrative rights. Admins have the flexibility to delegate specific reports, dashboards, and objects like users and groups in the AdminDroid portal. This granular delegation feature enables you to precisely assign access to Microsoft resources or AdminDroid features based on your unique requirements. Additionally, you can create custom roles based on the organization's needs.
"Effortlessly delegate administrative tasks to streamline Microsoft 365 management."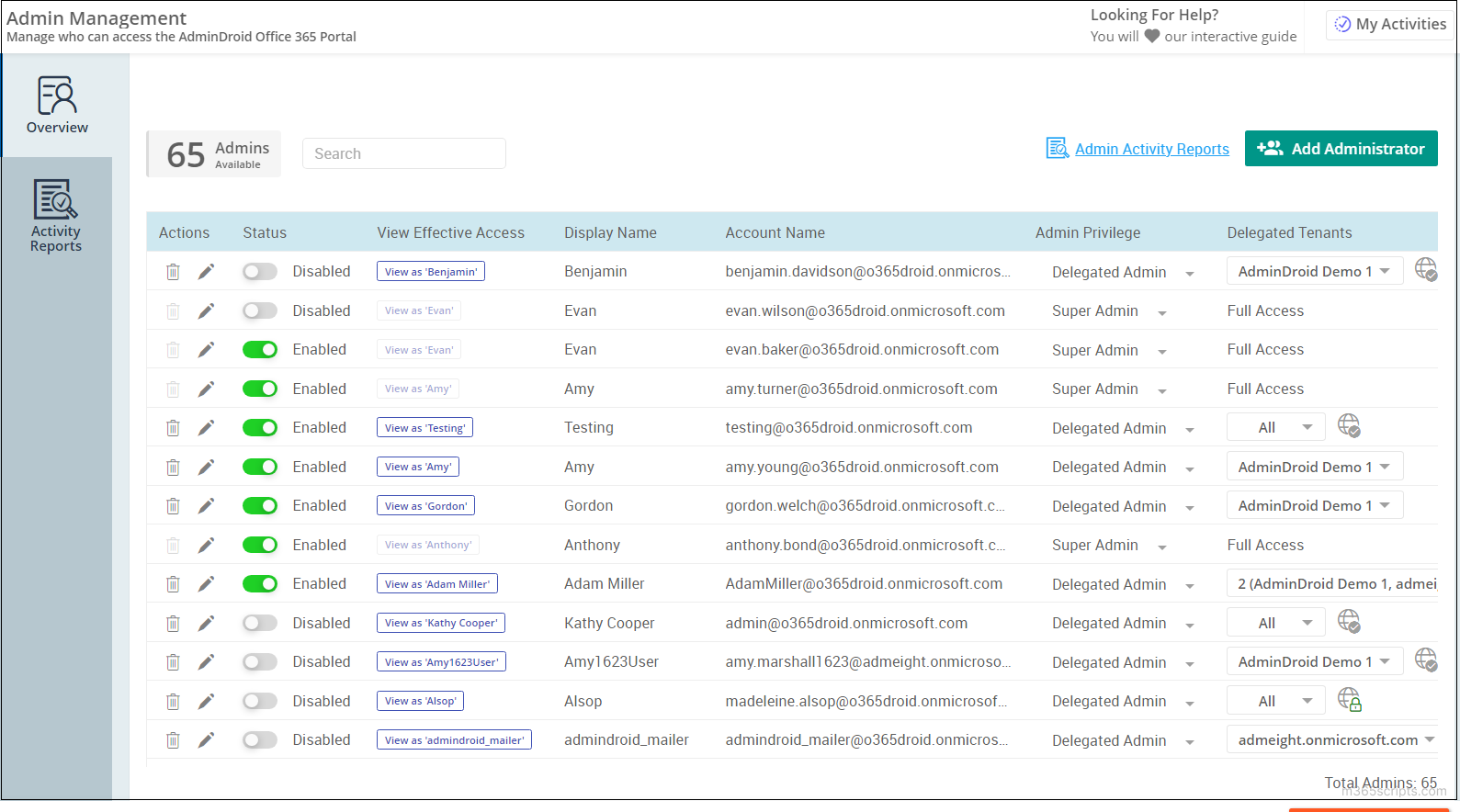 AdminDroid offers 30+ Microsoft 365 dashboards that consolidate data from various sources, providing a unified view of your entire Microsoft 365 environment. This simplifies your Microsoft 365 management efficiently.
"Visualize and streamline your Microsoft 365 data with intuitive dashboards."

Thus, AdminDroid simplifies every aspect of Microsoft 365 administration, from comprehensive reporting to advanced alerting. In addition to these features, the tool offers a wide range of capabilities, including advanced scheduling, granular filtering, saving views, reportboards, and more.
Are you ready to revolutionize your Microsoft 365 administration experience? Download the AdminDroid Microsoft 365 administration tool now and kickstart your journey towards effortless administration.
"Simplify and supercharge your Microsoft 365 management with AdminDroid! "