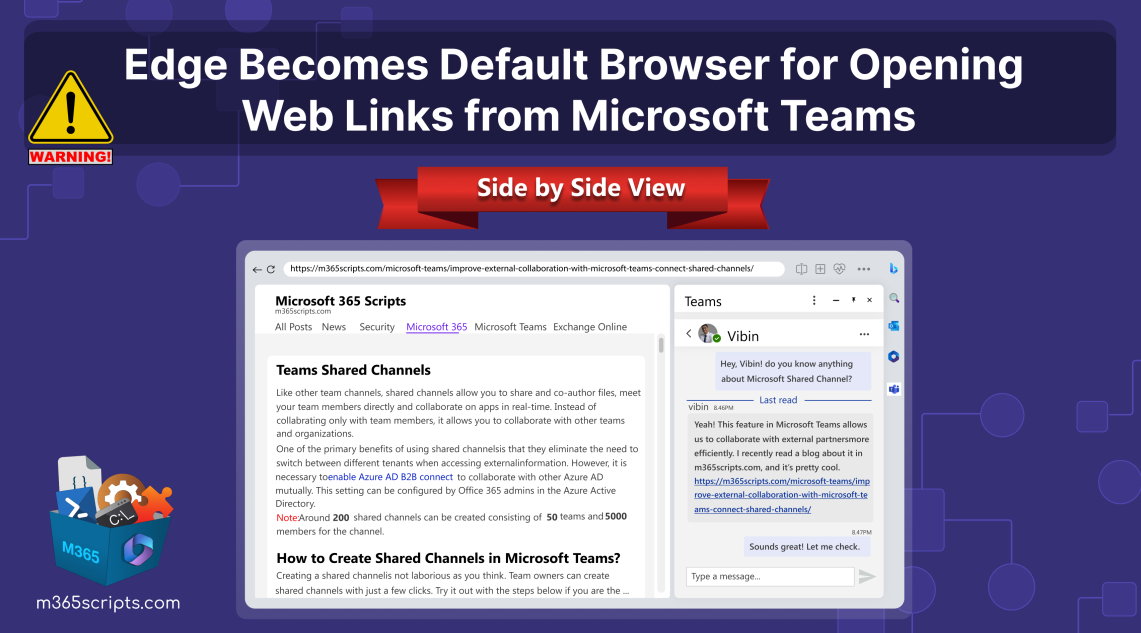 Edge Becomes Default Browser for Opening Web Links from Microsoft Teams
Edge Becomes Default Browser for Opening Web Links from Microsoft Teams
To enhance Microsoft 365 as a unique and standardized workplace for organizations, Microsoft continually develops innovative solutions like Copilot and loop components. One such notable enhancement is the change that opens web links from Microsoft Teams chats in Edge. However, Microsoft portrays this as an enhancement, Teams users consider this as enforcement to use Edge by disrespecting their default browser settings.
Microsoft's recent update (MC669480), states that they will soon implement a change where web links in Teams will directly open in Edge, beginning in early November 2023.
In the past, web links or hyperlinks in Microsoft Teams chats would open in the default web browser as per Windows settings. However, Microsoft is now implementing a change where these links will open directly in Microsoft Edge, mirroring the behavior of web links in Outlook clients, which currently open in a side-by-side view within Microsoft Edge.
Opening Outlook web links in Edge has already caused a buzz, and now a similar change has occurred in Teams. This seems to be another step in promoting the Edge browser.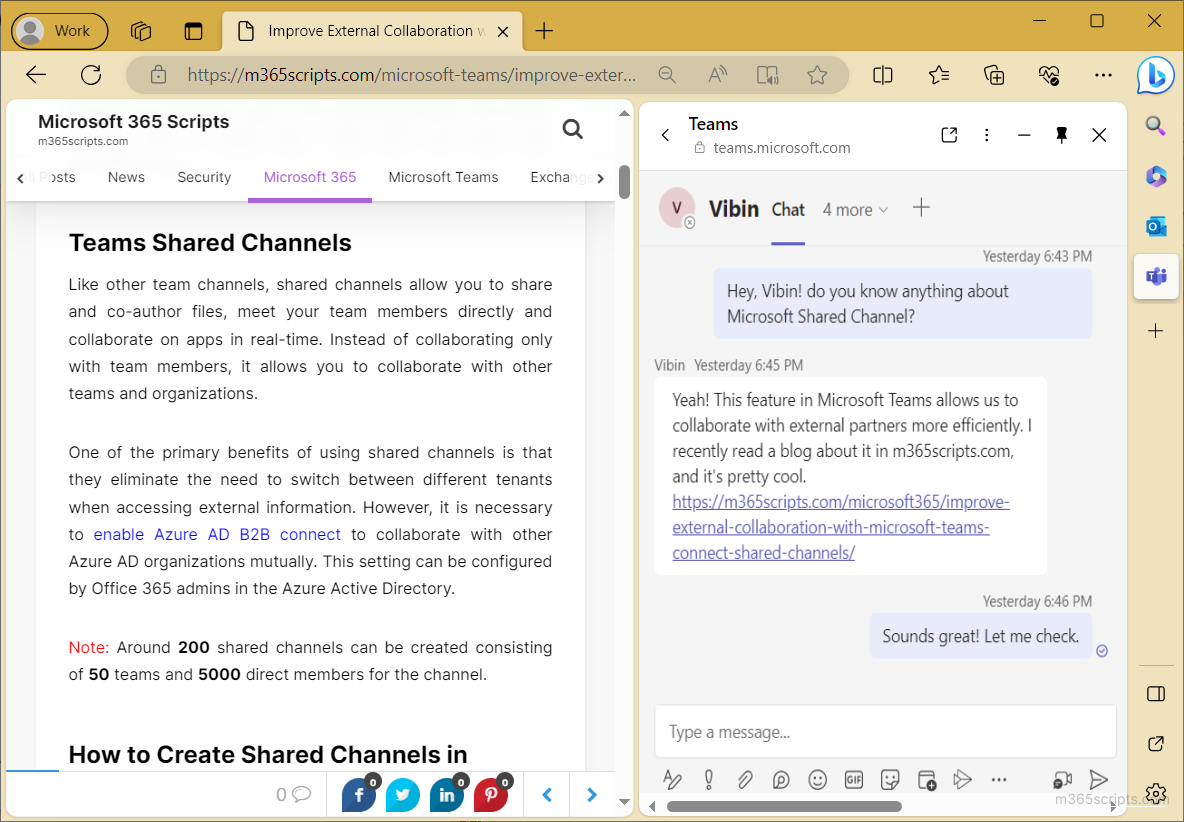 Notes:
This rollout does not override the user's default browser settings in Windows. Web links from Microsoft Teams or Outlook will open in Edge, even if a different browser is set as the default.

Commercial users signed into Teams with Azure Active Directory (Entra ID) accounts will only be affected by this update.

Web links set to open via a web browser will only be affected. Other links that are set to open in Office apps or within Teams itself will continue the same.

Changes will only be applied to Windows 10 and Windows 11 devices. Mac devices won't be affected by this rollout.
If you think this is awful, you can overcome this integration among your users by changing the web links configuration with the 'Choose which browser opens web links' policy. If you enable this policy, the web links from Microsoft Teams chat will automatically open in the default browser. If left unconfigured, then all the web links from Microsoft Teams chats open in Edge by default.
Note: This configuration policy also suits web links from Outlook for Windows.
To configure this policy, just follow the steps below:
First, you need to sign in to the

Microsoft 365 Apps admin center

.

Click on the

'Sign in'

option and get signed in with your Microsoft 365 administrator account.

Click on the '

Go to Microsoft 365 Cloud Policy

' button under the

Office policies

.

Select the

'Create'

button.

Type the name and description for the policy in the respective text boxes and select '

Next

'.




Select the scope

of the policy on the radio button with respect to your needs and select

'Next'

.

Search for

'Choose which browser opens web links'

and select the policy.

Select the

'Default Browser'

option

from the configuration setting drop-down and select

the

'Apply'

button.




Then, click on the

'Next'

button and review the created configuration.

Finally, click on the

'Create'

button and wait for the policy to be configured. After that select

'Done'

.
Note: After this configuration, Users won't be able to change the web links opening browsers from the respective apps' settings menus.
Admins can leave the policy unconfigured and make users manage it by themselves. Users can change the settings to stop weblinks opening in Edge and side by side view for Teams and Outlook.
Users will be notified when the first occurrence occurs. This notification will have options to learn more about this change, accept it, or manage it.

Disable Teams opening web links in Edge:
To disable Teams opening web links in Microsoft Edge, use the following navigation and configure the default browser.
Settings → Files and links → Link open preferences.
Disable Outlook opening weblinks in Edge:
To turn off Outlook opening web links in Microsoft Edge, go through the navigation below and choose the 'Default browser' option.
File → Options → Advanced → File and browser preferences.
While these configurations allow users to use their preferred default browser, the act of forcibly pushing Edge in all the possible scenarios has created a negative impact on Microsoft.
To prevent Teams chat from auto-opening in the MS Edge sidebar pane, follow the steps below.
Click on the three dots ellipsis from the Edge toolbar and select

'Settings'

.

Select the

'Sidebar'

tab from the left pane and select

'Teams'

under the

App specific

settings option.


Note:

To stop Outlook email from auto-opening in the MS Edge sidebar pane, select

'Outlook'

.

Turn off the

'Automatically open Teams Chat context in the side pane'

toggle option. In the case of Outlook, turn off the

'Automatically open Outlook email context in the side pane'

option

.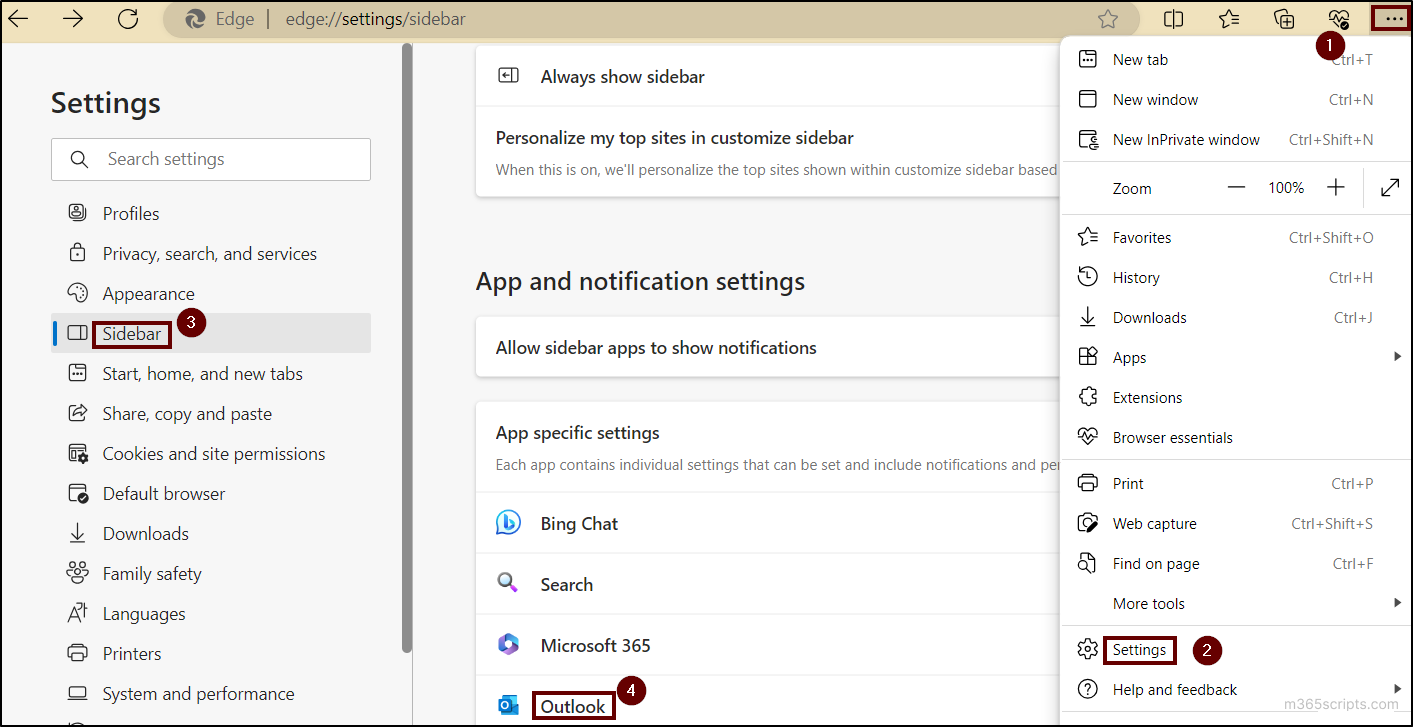 Beyond the contradictory things, the essence of this integration lies in the side-by-side experience it offers. Much like collaborative meeting notes in Microsoft Teams, which engages users in a streamlined workflow, this integration elevates productivity and collaboration experience. With web links and chat side by side, users can seamlessly multitask and reference external resources without interruption.
In conclusion, Microsoft Teams and Edge Integration is also a powerful feature to enhance your workflow. The decision to utilize it or not is entirely at your discretion.
Feel free to leave your comments for any further assistance. Stay tuned!