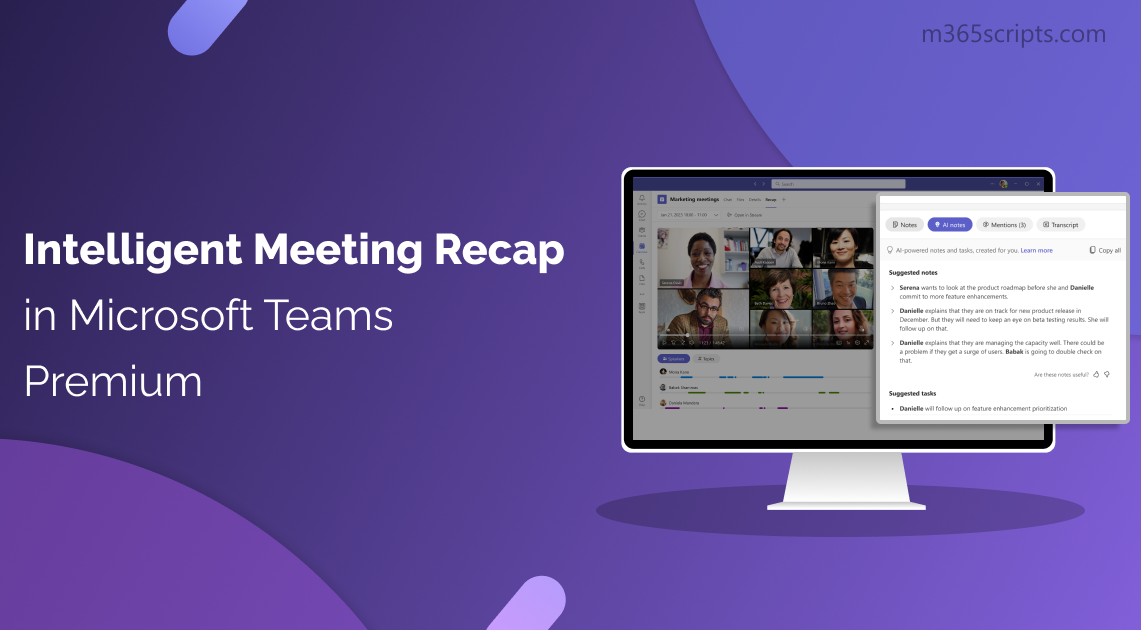 Intelligent Meeting Recap in Microsoft Teams
Intelligent Meeting Recap in Microsoft Teams
As we all know, Microsoft recently launched a new Teams experience exclusively for Windows users, which is currently in preview mode. As part of their ongoing efforts to improve Microsoft Teams, another new feature – Intelligent Recap in Teams Meetings will be rolled out for both Teams Premium users and users without Teams Premium. Intelligent Meeting Recap for premium users is in public preview now and is expected to complete the standard release in mid-June. Let's take a detailed look at the capabilities and benefits of Intelligent Recap.
Intelligent Recap is an AI-powered tool within Microsoft Teams that captures and organizes important parts of a Teams meeting recording to provide a summary or recap. Following are the advantages you can gain from it.
It uses artificial intelligence (AI) to

analyze the content of the meeting recording

, such as audio, video, chat messages, and shared documents, as well as AI-suggested notes, suggested tasks, and @mentions.

With the power of AI, intelligent recap

automatically generates chapters

that categorize the meeting content into sections to quickly locate the content that is most relevant to you.

With AI, it can

suggest action items and assign people to follow-up tasks

, thereby ensuring that important tasks are not missed.

Further, it helps users efficiently

review, recall key information,

and quickly grasp the main points of a meeting without having to watch the entire recording,

saving time and effort

.
Note – You can find intelligent recap under the 'Recap' tab in the Teams calendar and chat app. Intelligent Recap will be generated only for those meetings that are transcribed and recorded.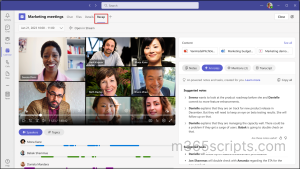 Find the current and upcoming features of Intelligent Meeting Recap for both Teams Premium and non-Premium users.
For Teams Premium Users:
Teams Premium users can now enjoy a new 'Recap' tab in Teams that offers a complete meeting summary. Using advanced AI technology, the following features enable users to quickly catch up on, remember, and take action on hour-long meetings in just a few minutes.
Indication of missed parts during meetings.
Automatically AI generated tasks.
Name mentions.
List of top speakers.
Quick links to full recap and recording.
In upcoming rollouts, features such as GPT-based AI meeting notes, personalized recommendations for key meetings attended, availability on the Outlook Mobile feed, and easy access to related files will be added.
For Users Without Teams Premium:
List of speakers.
Quick link to the full meeting recap and recording.
Intelligent meeting recap for users without Teams Premium will be made available to GA during the month of May. Apart from the above-mentioned features, the future update will also include availability on the Outlook Mobile feed and easy access to related files in the meeting.
Let me help you understand how this feature can be applied in different scenarios!
Scenario 1: During project review meetings, intelligent recap can capture action items, decisions, and deadlines discussed by team members. It can generate a summary that can be shared with the team to ensure everyone is on the same page and accountable for their tasks.
Scenario 2: Intelligent Recap can be used during brainstorming sessions to capture ideas, suggestions, and action items generated by team members. The recap can be used as a reference for further ideation, planning, and implementation.
Scenario 3: In client meetings, intelligent recap can summarize client requirements, feedback, and action items discussed. It also highlights key moments such as when a specific person's name is mentioned or when a screen is shared, making it easier for users to catch up on the content of the meeting.
Scenario 4: During long-hour meetings, AI-generated chapters will be useful to quickly access the content that is most relevant to you.
No more scrolling through lengthy meeting recordings or taking extensive notes during meetings!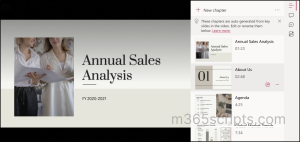 These are just a few examples of how intelligent recap in Teams Meetings can be used to enhance collaboration and improve productivity across the organization.
Apart from Intelligent Meeting Recap, Microsoft integrated AI into some other Teams Premium features to provide an unparalleled meeting experience.
Live Translation in Meetings – Teams meetings with live captions generated by AI help make sure that everyone in the meeting understands what's being said. With Teams Premium, meeting organizers can enable live-translated captions in 40 different spoken languages, making the meetings more inclusive for participants who speak different languages.
AI-Powered Smarter Transcript Search – As a part of intelligent recap, there's an improved search feature that helps you easily find key information in meeting transcripts. It includes personalized suggestions for speakers based on who you closely work with. This makes it more efficient for you to search through meeting transcripts for information that's relevant to you and your work.
Timeline Markers – Microsoft Teams also has personalized timeline markers for meeting recordings. Timeline markers are icons that appear along the timeline of a meeting recording, indicating notable events such as when you joined or left the meeting, when your name was mentioned, or when someone shared their screen. These markers are personalized, so only you can see them.
Name Mention Markers –

These markers show where your name was mentioned, and you can jump directly to those parts of the recording by selecting the @ icon. You can also view a written transcript of what was said, including who said it, by opening the transcript pane. By accessing

Teams settings -> Captions and Transcripts

, the user can toggle the option to remain anonymous in meeting transcripts.

Join and Leave Markers

– If you joined a meeting late or left early, you can easily see where you joined and left the meeting recording. They are represented by icons, making it easy for you to catch up on what you missed during the meeting.

Screen Share Markers –

If someone shared their screen during a meeting and you want to review that content, you can easily find it in the meeting recording. There are markers on the timeline that show where screen sharing occurred. You can hover over the timeline and the screen share icon will appear, indicating where someone shared their screen.



AI-generated chapters for PowerPoint Live and personalized timeline markers for meeting attendance are available today. The other intelligent recap features mentioned will be available in Q2 2023!
I hope this blog helped you in gaining better knowledge about Intelligent Meeting Recap in Teams meetings.