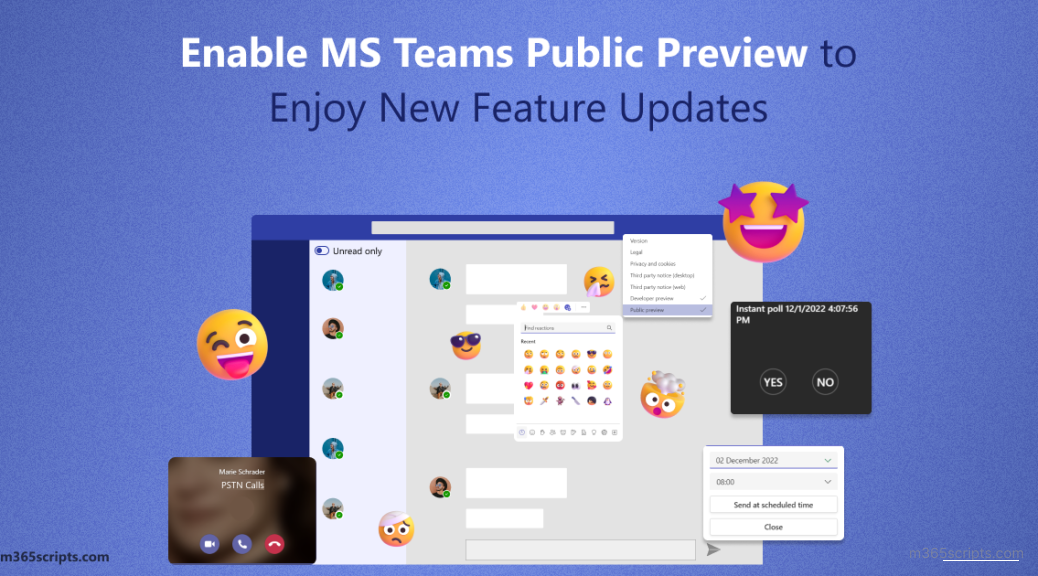 Enable MS Teams Public Preview to Enjoy Earlier Access to New Feature Updates
Enable MS Teams Public Preview to Enjoy Earlier Access to New Feature Updates
As we all know, a steady stream of new features and updates is released every month in MS Teams. The pace of updates makes it essential to stay on top of key feature updates and test them before they get deployed. Currently, 83 updates are in development, 63 updates are being rolled out and 232 updates are generally available. Yeah, it's huge! 
To get early access to the latest updates before they are generally available, enabling Teams Public preview is a must! Individuals should activate the public preview on their desktop and web clients to explore and test out the new features. Switching to public preview in Teams client is possible only if the Teams Update policy gets enabled in Microsoft Teams Admin center. 
Teams Update Policy

Creation

 
Admins need to configure Teams Update Policy as a first step to enable preview features for the users. 
Step:1 Sign-in to Teams admin center. 
Step:2 Navigate to Teams –> Teams Update Policies.
Step:3 Click on Add policy. 
Step:4 Give the policy a name and description.
Step:5 Under Show preview features dropdown, choose Enabled. 
Step:6 Select Apply.  It is said that the changes will take up to 2 hours to effect effort.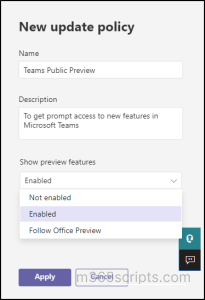 There are the following options available under Show Preview dropdown: 
Follow Office Preview(default)

– Users enrolled in the Office Current channel will automatically be enabled for public preview features. This option requires no further actions by the end user. 

 

Not Enabled

– Teams Public preview will not be available to end users. 

 

Enabled

–

This option enables Teams public preview regardless of whether a user is enrolled in the Office Current channel.

The end user must also opt into Teams public preview in the Teams app by following the steps mentioned b

elow

.

 
Switching to Public Preview in Teams Client

 
As a user, we need to switch to the public preview mode once the Teams Update Policy gets enabled in admin center. In Microsoft Teams, you can switch to public preview mode by following these steps. 
Step:1 Log into Microsoft Teams.
Step:2 Click the eclipse next to the profile picture.
Step:3 Navigate to About –> Public Preview.
Step:4 Confirm Switching to Public Preview to get early access to the new features in Microsoft Teams.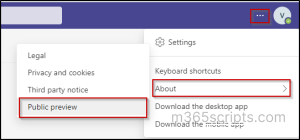 Now that Microsoft Teams public preview is enabled, you can have access to all the latest features which are in preview before they get generally available.  
Know the Latest Trends in Microsoft Teams

 
What's Rolling Out in Public Preview now? |

November 2022

 
Features

 

In Public Preview Since

 

1. Users can send

custom expanded reactions

to all chats in Microsoft Teams.

 

November, 2022

 

2.

To get quick, automated responses in a Teams meeting, you can now use an

Instant poll option

.

 

November, 2022

 

3.

Screen pop for incoming PSTN calls

can be seen now.

 

November, 2022

 

4. Teams on the web will offer the

modern meeting and calling experience

on Chrome and Edge – including improved pre-join, dynamic view, and updated control bar.

 

 

November, 2022

 

5.

Users can now

create e-signature approvals

and include multiple signature fields within MS Teams. 

 

October, 2022

 

6.

Transcription for 1:1 calls and group calls

is available on Microsoft Teams for Android.

 

 

October, 2022

 

7. Music will be played to the caller on hold when a call transfer gets initiated.

 

October, 2022

 

8. Search message results will now take you to the

entire chat thread. 

 

October, 2022

 

9. You can start a

Teams chat with distribution groups, mail-enabled security groups, and O365 groups

with a limit of 250 members in a team.

 

 

October, 2022

 

10. There is now new

Unread toggle

at the top of the activity feed to view unread chats quickly.

 

 

October, 2022

 

11. Similar to Outlook, now users can

manually schedule the Teams message. 

 

September, 2022

 

12. To optimize the meeting experience,

Microsoft Teams Rooms on Windows

now

suppress video streams

.

 

 

September, 2022

 

13. It is now possible for

Teams users to accept or block group chat invitations

sent by unmanaged users.

 

 

September, 2022

 

14. To select a quick response,

suggested replies

are now available in

group chats

. 

 

September, 2022

 

15. Microsoft Teams meetings can support

49 videos(7×7

) without an explicit action.

 

 

June, 2022

 
We will update you frequently whenever the feature rolling out in public preview gets generally available! 
I hope this blog helped you in enabling public preview in Microsoft Teams. Switch to the Teams public preview and start enjoying early access to new Teams features without any delay.