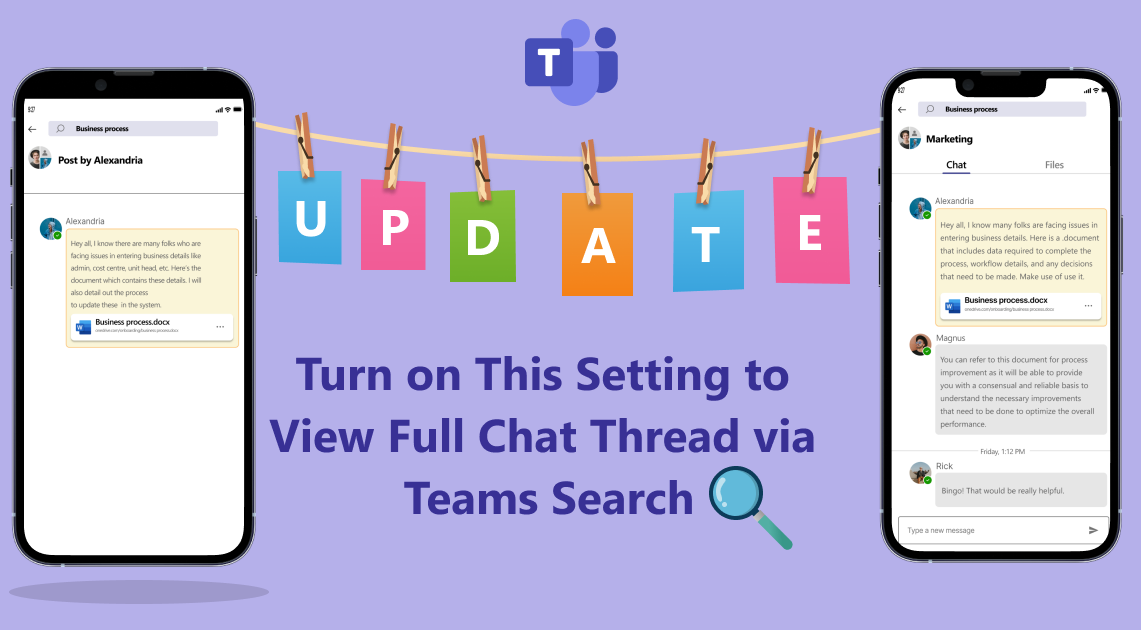 Turn on This Setting to View Full Chat Thread via Teams Search
Turn on This Setting to View Full Chat Thread via Teams Search
As we know, it is impossible to view the entire chat conversation using Teams' message search feature when the chat is older than 14 days. You will only see those specific messages for what you have searched. To spare you from this barrier, Microsoft enhanced the Teams search functionality in a way to view the entire conversation thread after clicking the specific message in search results.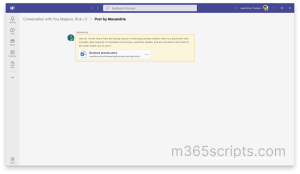 The updated search experience is currently available in public preview for the Teams desktop app and web client. Users who frequently search the threads for references will find it more convenient with the new feature. In early October 2022, Microsoft may roll out the new search experience to be available to all Teams users. To experience this new Teams search functionality, you must enable Microsoft Teams Public Preview.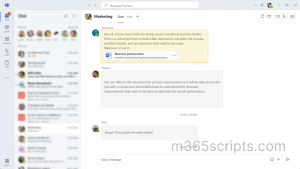 Microsoft Teams Public Preview provides prompt access to soon-to-release features. So, admins can explore and test the upcoming features in their organization. Admins can set the public preview in the Teams update policy using the following ways.
Set the Teams Update Policy Using Teams Admin Center

Set the Teams Update Policy Using PowerShell
Go to Microsoft Teams Admin Center.

Navigate to Teams –> Teams Update Policy.

Click

Add

to create a new update policy.

Fill in the name, description, and click the

Show preview features

dropdown.

You can see

Follow Office Preview

turned on by default. Change it to

Enabled

and save the policy.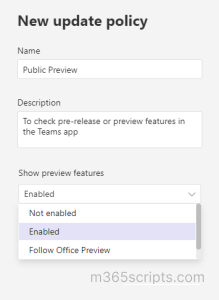 Find the difference between Preview feature settings in Teams Update Policy.
Follow Office Preview – This is a default option that readily enables Teams Public Preview features for any Microsoft 365 user enrolled in Office Preview.
Enabled – Choosing this option enables Teams Public Preview regardless of Office preview enrollment. The end user must also opt-in to Teams public preview in their Teams app.
Not Enabled – If the setting is in 'Not enabled', Teams Public Preview feature will not be available to end users.
Note – If you create custom Teams update policy, you need to assign the policy for specific users as a custom policy can't over-write global policy.
To enable Teams update policy using PowerShell, connect to the Microsoft Teams Module.
To enable/disable the public preview, you can use the Set-CsTeamsUpdateManagementPolicy cmdlet. You need to specify the username and set 'AllowPublicPreview' parameter to 'Enabled'.
Set-CsTeamsUpdateManagementPolicy -Identity Global -AllowPublicPreview Enabled
After enabling, check out the new Teams search functionality and get landed on the full chat thread once the message result gets clicked!
I hope this blog will help admins to have improved chat message search experience in Teams!